Combined Sewer System
Like many cities in the United States, Richmond has aging infrastructure. Parts of our first sewer system are over 150 years old and were designed as a combined sewer system (CSS). These pipes were made to transport both wastewater and stormwater. During dry weather, the wastewater and stormwater are carried to Richmond's wastewater treatment plant. During times of heavy rainfall or snow melt, the volume of water can exceed the capacity of the pipes and overflow, untreated, into our waterways – including the James River.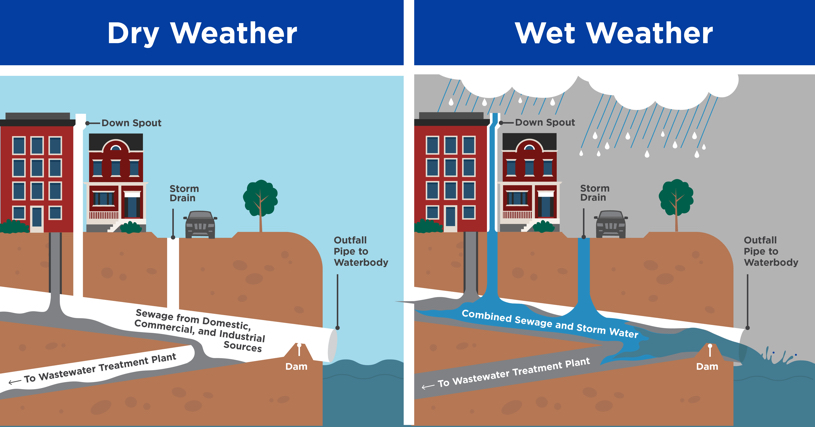 As a community, Richmond is addressing the issue of combined sewer overflows to markedly improve the water quality in the James River. Since 1988, the City and the Commonwealth of Virginia have invested nearly $300 million in support of cleaner water for our community. A $120 million investment in Richmond's wastewater treatment plant improved pollutant reduction capabilities, resulting in a 2019 record low discharge.

Other improvements include:
Separating within the combined sewer system
Since the 1970s, several parts of the combined sewer system have been re-piped to separate the flow of sanitary sewer and stormwater, resulting in fewer overflow events and a reduction of stormwater sent to the wastewater treatment plant. 21 of 46 outfalls have been separated.
Fully utilizing existing gray infrastructure
Using state-of-the-art monitoring technology and telemetry, we are able to see the volume, flow rate, and capacity in our system of pipes, pumps, ditches, and detention ponds in real-time. Once excess storage capacity is identified, control valves, gates, and weirs will be used to maximize flow to the wastewater treatment plant.
Implementing the RVA Clean Water Plan
The creation of the RVA Clean Water Plan was driven by stakeholder interest and participation. This collaborative and comprehensive document contains specific strategies and metrics to achieve while also providing the foundation for the City's 2018 Integrated VPDES Permit. The City is committed to achieving the plan's goals and is utilizing green infrastructure, a stormwater management approach that mimics nature, as part of its strategy.
Treating greater volumes of combined wastewater and stormwater
After a recent 65-million-gallon upgrade, the wastewater treatment plant is now able to treat up to 140 million gallons of combined sanitary sewer and stormwater per day during wet weather before returning the treated water safely back to the James. This will result in reducing overflows by 100 million gallons per day – every day it rains.
Learn more about how Richmond's combined sewer system works in our StoryMap, which includes a map of all combined sewer outfalls.
To view a real-time, interactive map of Richmond's 25 combined sewer system outfall locations click here.